he

ainted

iolin

Following is a transcription of an article from the Nov. 26, 2006 Sunday edition of
The Herald-Sun, profiling The Painted Violin Project.
The image below is copyright The Herald-Sun and Kevin Seifert.
Symphony commissions artists to give old violins new life
by Dawn Baumgartner Vaughan

DURHAM -- Where do old violins go? There might be a music joke in there somewhere, but the reality for three retired violins is rebirth as art. The instruments turned works of art will be raffled off as a fundraiser for the Durham Symphony Orchestra at its annual Holiday Pops Concert Dec. 3.

Three Durham artists donated their time and talent for The Painted Violin project that presented a new type of artistic challenge. Each artist's approach was unique.

Phyllis Golden Andrews' violin is unmistakably Durham. It is signature Bull City in acrylic, with the familiar brick of tobacco buildings, Carolina blue sky and green grass of the field at Durham Bulls Athletic Park. She painted the "Roll Your Own and Save Your Roll Genuine Bull Durham Tobacco" sign over the brick wall on the widest part of the violin. "American Tobacco" lettering divides the sky from the baseball field featuring a player pitching. On the violin's fingerboard is "Lucky Strike."

Golden Andrews, who titled the piece "Resurrection," grew up playing the violin and still plays occasionally. She took on the project at the request of her friend and symphony president Judy Thompson.



New life for old instruments



The violin raffle was Thompson's idea. She had heard of other symphonies doing similar fundraising projects and put the word out that it was interested in artists turning an object used for performing art into a piece of art.

"I've really come across lots of people with old violins who didn't know what to do with them," she said. Thompson said that sometimes the cost of repair is higher than the violin itself. "There are lots of old violins out there that can't be fixed or can't be played and need new life."

Golden Andrews and Durham artists Sutapa Das and David Terry were given the summer to complete their works. Terry, an illustrator, used images he had drawn previously that were well received. His violin is titled "Amadis" after the 17th century musical piece.

"It's basically decoupage," he said of his illustrations -- images of a man, woman and trees -- on paper that adheres to the violin. "I chose them because they were popular, sold instantly and people wanted copies."

The violin art represents the first time Terry attempted three-dimensional art since doing macrame in the 1970s. His violin -- slightly smaller that the other two in the raffle because it is designed for a child -- came with the tailpiece and strings still attached. He took the strings off while he was working, then had quite a time trying to reattach them. After his third failed attempt, he turned to Thompson, who put them back on.



The 'color' of sounds



The artists agreed that the scroll of the violins was the most difficult to access. Das was able to get into the nooks and crannies of the instrument with her paintbrush. Her style of art is a multitude of tiny dots -- a time-consuming method of creating an image. She usually uses a water soluble paint called gouache, but had to use acrylic on the violin. Using a new kind of paint meant a different approach to painting. Because acrylics dry out, she spent longer intervals on the project, which required painting at some weird angles, she said. With gouache, she paints for a little while, then sets her brushes in water. The base color on the violin is white, with primary colors to create "Wave Form V."

The design is based on sound waves produced by violins. "The more jagged red, orange and yellow lines represent the more abrupt sounds, and the cooler greens and blues represent the smoother sounds," Das said.

The piece took shape as she worked, which she describes as "constrained improvisation. I sometimes get asked what I do when I make a mistake, but when you are improvising, mistakes aren't really part of your vocabulary -- whatever you do is based on what came before. The piece designs itself in a way. There is no right or wrong."



The Painted Violin



Raffle tickets for the violins are being sold $5 each or seven for $31 in honor of the symphony's 31st anniversary. The violins have been on display at local events, including the recent Durham Art Walk. They are now on display at the symphony's office in the Durham Arts Council building on Morris Street downtown. Tickets are available through the DSO office and board members. They will also be sold before and during the Holiday Pops Concert Dec. 3 and the raffle will take place after intermission.

The symphony hopes that music aficionados may take a closer look at art, and that artists may think more about the musical experience.

"It's something everyone can kind of connect with," said Pamela Pecchio, DSO office manager. "It's fun, too, bringing art and music together in this interesting way."

Thompson said that DSO will try The Painted Violin Project for a few years, and if it has enough support, will consider making it an annual event.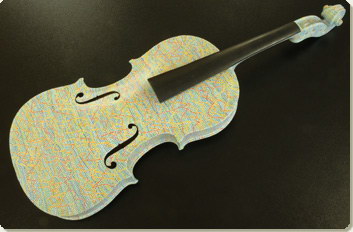 For a high-resolution view of Sutapa's Wave Form V violin, click on the picture above.